Dear parents/guardians and students,
As many of you know, significant changes have been made to the DACA program. This Thursday, October 5th is the deadline to renew permits that will expire on or before March 5th, 2018. The Department of Homeland Security is not accepting any submissions from new applicants.
If you, your child, or any friends or family need information or resources for filing the renewal, please check out these resources from the California Department of Social Services.
For more information about the DACA update, please see the flyer below or contact your school counselor or Ms. Parsons.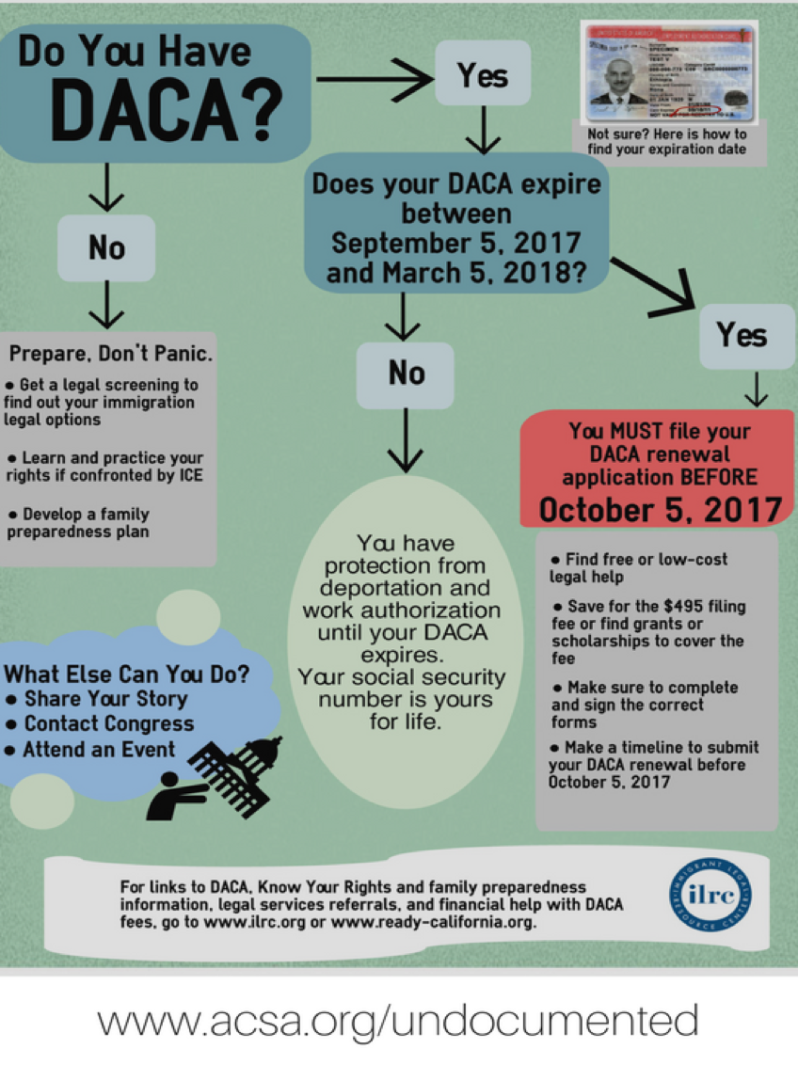 DACA APPLICATION & USCIS FILING FEE ASSISTANCE
The California Department of Social Services (CDSS) funds qualified non-profits to provide free legal services for low-income individuals. The following organizations provide DACA renewal assistance. Assistance with USCIS DACA renewal filing fees may also be available. Services are not guaranteed.
You must contact the organization directly to inquire about service availability.
Ayuda Financiera para la Solicitud de DACA
El Departamento de Servicios Sociales de California (CDSS) aporta ayuda financiera a organizaciones no-lucrativas para servicios legales a personas con pocos recursos. Estas organizaciones proveen asistencia para las renovaciones de solicitudes de DACA. Ayuda financiera para los costos de renovación también pueden ser disponible. Estos servicios no son garantizados sin embargo, usted tiene que contactar la organización de forma directa para preguntar sobre este servicio.  
Los Angeles
Catholic Charities of California Los Angeles
1531 James M Wood Boulevard, Los Angeles, CA, 90015
(213) 251-3400
www.CatholicCharitiesLA.org
Central American Resource Center of Los Angeles
2845 W. 7th Street, Los Angeles, CA 90005
(213) 385-7800
Coalition for Humane Immigrant Rights of Los Angeles (CHIRLA)
2533 W. 3rd St Suite 101, Los Angeles, CA 90057
(213) 353-1333
International Institute of Los Angeles
435 S. Boyle Avenue, Los Angeles, CA 90033
(323) 264-6217
Korean Resource Center
540 S Kingsley Dr #B, Los Angeles, CA, 90020
(323) 937-3718
Loyola Immigrant Justice Clinic
919 South Albany Street, Los Angeles, CA 90015
(213) 736-8136
UFW Foundation – Los Angeles
3002 Whittier Boulevard. Los Angeles, CA 90023
(323) 264-2700