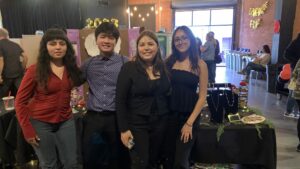 Da Vinci's graduating seniors are closing out the school year with final Presentations of Learning where they reflect on their learning and growth over the past four years.
At Da Vinci Design, seniors completed a six-week capstone project culminating in a Senior Showcase held at the Zimmerman Automobile Driving Museum in El Segundo on May 24th. The Senior Showcase was a special exhibition for families, friends and the entire DV community.
Da Vinci Design's senior project is composed of four stages of the Design Process: Care, Conceptualize, Create, and Critique. Projects focused on honing students' design skills and serving the local community, from engineering indoor gardens to supporting local animal shelters, to starting small businesses selling jewelry and crochet items, to coordinating the Senior Showcase itself!
What started as a conversation over their passion for role playing games, Anthony Roberson, Adrian Williams, Francisco Saldana, and Danica Mojonnier created a professional role playing game called MouseVale, a fantastical world beneath human's feet where adventuring animals maneuver the dangers of modern life. The students used Natural Crit to create a 150-page MouseVale: A Player's Guide that resembles the Dungeons and Dragons format. They also created 50 original art pieces (some shown below). In order to bring this idea to life, the students have raised over $1000 in funds through a Kickstarter campaign and cookie sales. With so much momentum growing around their game, the Design students intend to release a PDF version of the guide, then hard copies.
The Wooden Room, a community space at Da Vinci Design, was renovated into The Garden Room by seniors Eli Velasquez, Mia Gonzalez, and Renna Ady. Their goal was to create a space for learners and educators that would encourage "greater engagement and motivation toward academic pursuits". Utilizing SketchUp software they learned in their architecture pathway course, the group first created an electronic layout of the floor plan. Once conceptualized, they created wooden wall-mount planters, raised planters, and shelves that would be placed around the room. In collaboration with Cal Terra Design, Angel Velasquez Systems, and West Coast Welding and Fabrication, the students received over 20 donated plants, lumber, tools, and consulting services to support their project. To help maintain the garden after they graduate, the seniors created a "how to" manual so others can learn how to care for the different plants in the Garden Room after they're gone.
Without any prior experience of writing, editing, or directing short films, Ruby Yarlett, Jayla Jones, and Devin Gough created an analog horror film, Nocturnum. Sparked by Ruby's interest in analog horror films, they reached out to Jayla and Devin and the niche analog horror community for help in bringing this idea to life. Jayla was responsible for the film's creative animations, while Devin edited the film's sounds and visuals.
We are so inspired and impressed by all the senior projects, and wish all Da Vinci graduates a fantastic commencement and transition into college, career and life!! We are so proud of you!!