Seasons Greetings Designers and Design Families!
From our staff to your families, we wish all of you a happy holiday season. We hope you travel safely, eat well, and get lots of rest!
Semester two officially begins and classes resume on Monday, January 9th. See the calendar below!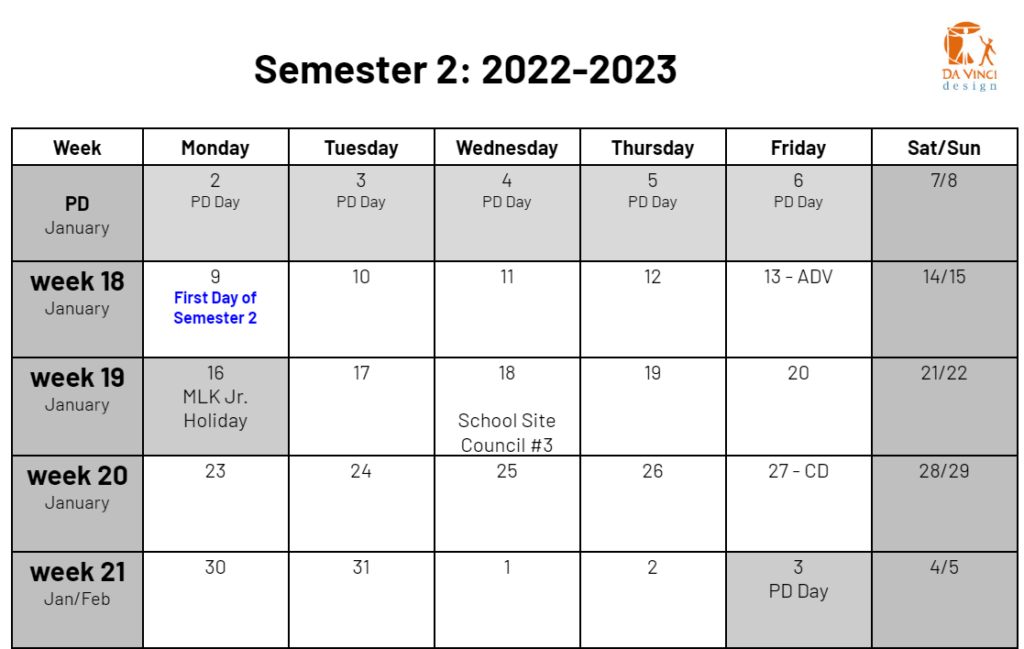 Winter Break Front Office announcements: 
All DVD offices will be closed for the break starting Tuesday, Dec. 20th until Tuesday, Jan. 3rd. If you need to reach us, please reach out via email and we are happy to assist.

For records requests (including work permits): reach out to Office Manager Maria Beltran at mbeltran@davincischools.org .
For attendance and student information: reach out to Admin. Support Manager Brianna Castaneda at bcastaneda@davincischools.org .
For all other questions or concerns, reach out to Principal Russell Stoll at rstoll@davincischools.org .

Report cards will be mailed to arrive the week of Dec. 19th. If you have questions about final grades, please reach out to teachers directly via email. Grade appeals must be initiated via email within 30 days of the end of the semester. For more information about final grades, see the DVD Student and Family Handbook.
The Da Vinci Schools reception will be open during the break on select days. Please call us at 310-725-5800 between 8am-2pm to speak to someone on campus.
Wishing all of you a safe, restful and fun holiday break!