Hello DVD families!
What a great second week! The freshmen class went on their Overnighter and had a wonderful time (see pictures below). A big thanks to our amazing staff and overnight leaders who made this event run smoothly. We also had our first Community Dialogue today where new staff and students were welcomed.
---
Senior family meetings will begin next week. Please see your counselor if you have questions and/or have not signed up for a meeting yet.
We are looking forward to seeing everyone at Back to School Night on Tuesday 9/3 from 6 – 8 pm. Families will receive a copy of their student's schedule and have the opportunity to attend students' advisory and core academic classes. Counselors will be available in their offices to meet with families as needed. See schedule below: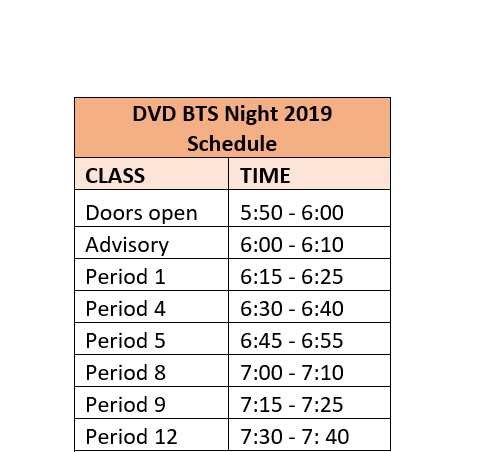 ---
UPCOMING EVENTS:
Monday 9/2: Labor Day (No School)
Tuesday 9/3: Back to School Night (6-8 pm)
Wednesday 9/4: Fall Seminars begin
Friday 9/6: Picture Day (Juniors and Seniors)
Wednesday 9/11: Picture Day (Sophomores and Freshmen)
Friday 9/13: Club and Service Learning Fair
---
Here is the schedule for Week 3:

Have a wonderful three-day weekend!
Veronica Rodriguez