Week 6 Update – SAT/ACT Prep, School Site Council Interest, PSAT/Practice ACT and more…
Designers, we hope you were able to sign up for a student club and/or find an organization to volunteer with today at the Club & Service Learning Fair! Shout out to all the student groups who put in the time and effort to set up their booths to make for such a successful event today.
Week 6 is coming up, and although it is light on events, this post is heavy on information, so please make sure to read it all!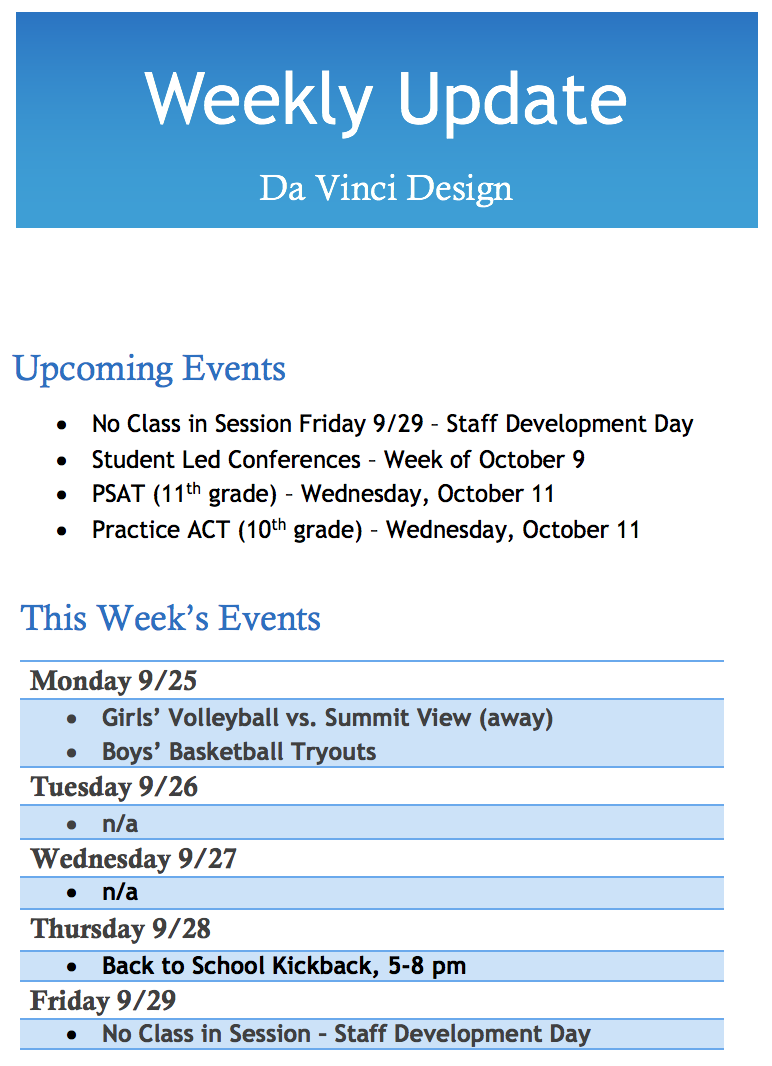 Annual Back to School Kickback
Thursday 9/28, 5:00-8:00 pm at DVD/DVC
Stay tuned for details from Senior Committee about prices and activities
School Site Council Interest
Students, parents and teachers: Would you like to be part of Da Vinci Design's School Site Council? If you would like to nominate someone, or nominate yourself, for a seat on the Da Vinci Design School Site Council, we have more open slots this year! The council meets 4 times a year in the evenings to discuss, vote on, and provide feedback on various school programs and topics.  We are looking for parent and student nominees. If you are interested in being nominated for the council or would like to nominate another individual, please fill out this FORM by Friday, October 6th.  Voting for the council will take place via the survey during Student Led Conferences week (Oct 9-13) and new members will be announced once voting has closed.
PSAT for 11th Graders, Practice ACT for 10th Graders – Wednesday, October 11
Testing will take place during the school day, prior to SLCs
Stay tuned for more detailed information
Ivy Prep ACT Class Fall 2017
See previous post regarding the Ivy Prep ACT Prep course taking place from October-December at Da Vinci Design for a highly discounted rate of $100!
Register now, space is limited!
Winter Break ACT Class
Da Vinci is offering an ACT/SAT Prep course to its students through PJ Test Prep, a small Test Prep and Tutoring company based in the South Bay over winter break. They have been in business since 2005 and have been offering SAT/ACT prep with Da Vinci for 3 years and they do a great job!
The course, open to all students from all DV high schools, will be 5 days over winter break from Monday January 7th to Friday January 11th, 2.5 hours per day.
Students can sign up for either the AM session (10:00-12:30) or the PM session (1:15-3:45) and are expected to attend the same session for all 5 days.
The course costs only $50 per student. Partial scholarships are available, so please don't let the cost stop you from signing up!
Here's the link to sign up: http://tinyurl.com/DVTestPrep2018
After signing up here, students must pay the $50 course fee to their school's office. Please make checks out to "Da Vinci Schools" and write "Test Prep" on the memo line.
Pier to Pier Walk – Service Opportunity
The annual SKECHERS Pier to Pier Friendship Walk is an event that brings together all walks of life for one common purpose; to support children with special needs and education.  It's a really fun day to get out and walk to support a great cause.   Not only is the walk a great way to spend time with friends and family but it also raises money for your local school district. 100% of the registration fee goes back to special education departments in the South Bay. The walk is on 

October 29th at 9:00am

. Check in starts at 

8:30am at the Manhattan Beach Pier. A sign-up sheet will be in the DVD front office.