Week 33 Schedule and Announcements
Greetings DVD families!
We hope everyone is doing well this week! As a reminder, we will be starting off our week with Student Outreach Days! On Monday, May 4th, and Tuesday, May 5th, teachers will be contacting students individually. During these two days, there will not be any class meetings. Students can use this time to catch up on assignments.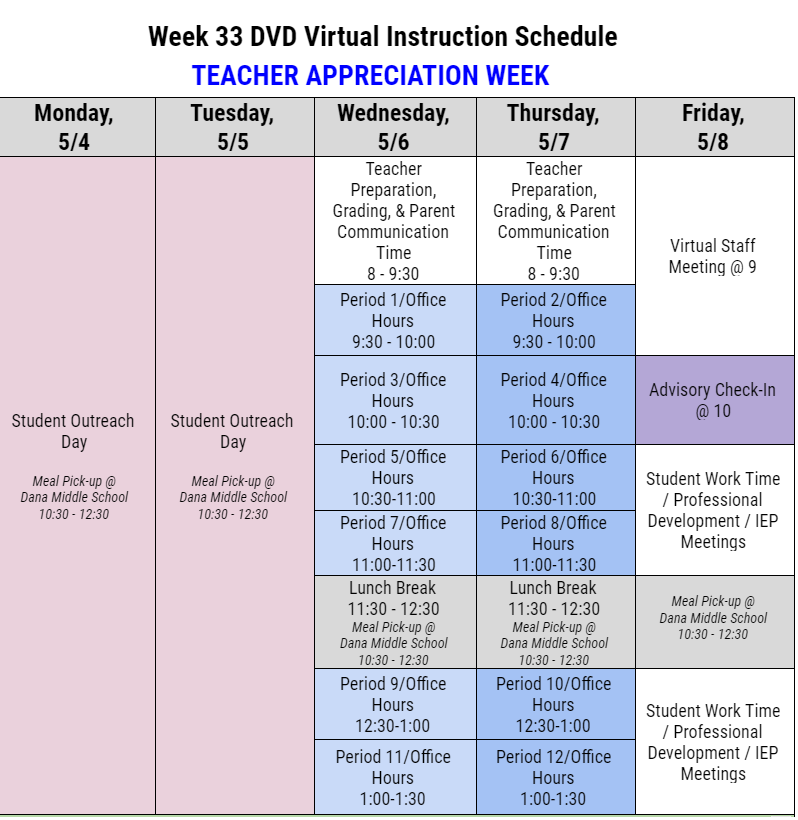 We will also be mailing out grade updates early next week, along with information regarding Virtual Grading options for Spring (click here for a video which explains the changes and options we are providing our students – English/Spanish)
If a student would like to switch to the Credit / No Credit grade scale for this semester, please have the student complete this form: Request to Switch to Credit / No Credit Grade Scale. The last day to request a change is May 6th.
Next week, we will be celebrating TEACHER APPRECIATION WEEK! Don't forget to thank your teachers when they reach out next week! Please take a moment to celebrate as many of our fantastic teachers as possible with a short written message of appreciation. Your words of gratitude and encouragement for the Design staff will mean the world to them. Teachers help uplift us every day, and we are grateful to you for taking the time to help lift them up during this special week! Click here to submit messages of appreciation for our DVD staff
Want to do something EXTRA special to show our staff that you care? Make a video! Make a TikTok, recite a poem, or just share your smiling faces addressed to all of your teachers and send it to cnoyola@davincischools.org.
Messages and videos will be collected on Monday, 5/4. Don't delay – send them in now!
Last but not least, here is a short video from Veronica and Russell for our students.
We miss you and hope you are staying safe.
Take care,
Veronica