Week 32 Update – Please read – Much information included!
Designers, below is your Week 32 update.  Check it out for information on this week's events, a parent involvement opportunity, SBAC testing, a letter to parents regarding a recent Netflix series, parking permits for next year, graduation speaker applications and more!
Parent Volunteers Desired for DV Hiring Symposiums on 5/4

Parents, we have a two more hiring symposiums for prospective Da Vinci teachers on Thursday, 5/4.  There are two sessions: morning (9:00-11:00 am) and afternoon (1:00-3:00 pm).
Please sign up HERE if you are interested in being part of the process and interviewing some of the candidates (or email Kate Parsons, Principal at kparsons@davincischools.org).

SBAC Testing for Juniors next week
All juniors are scheduled to take the SBAC tests next Wednesday and Thursday (4/26 and 4/27).  Attendance is crucial!
Letter to Families Regarding new Netflix Series 13 Reasons Why
DVD Families, please read the letter from our counseling team below and reach out with any questions or concerns. Your student also should have received a copy of this in Advisory, so please ask for that when they come home today!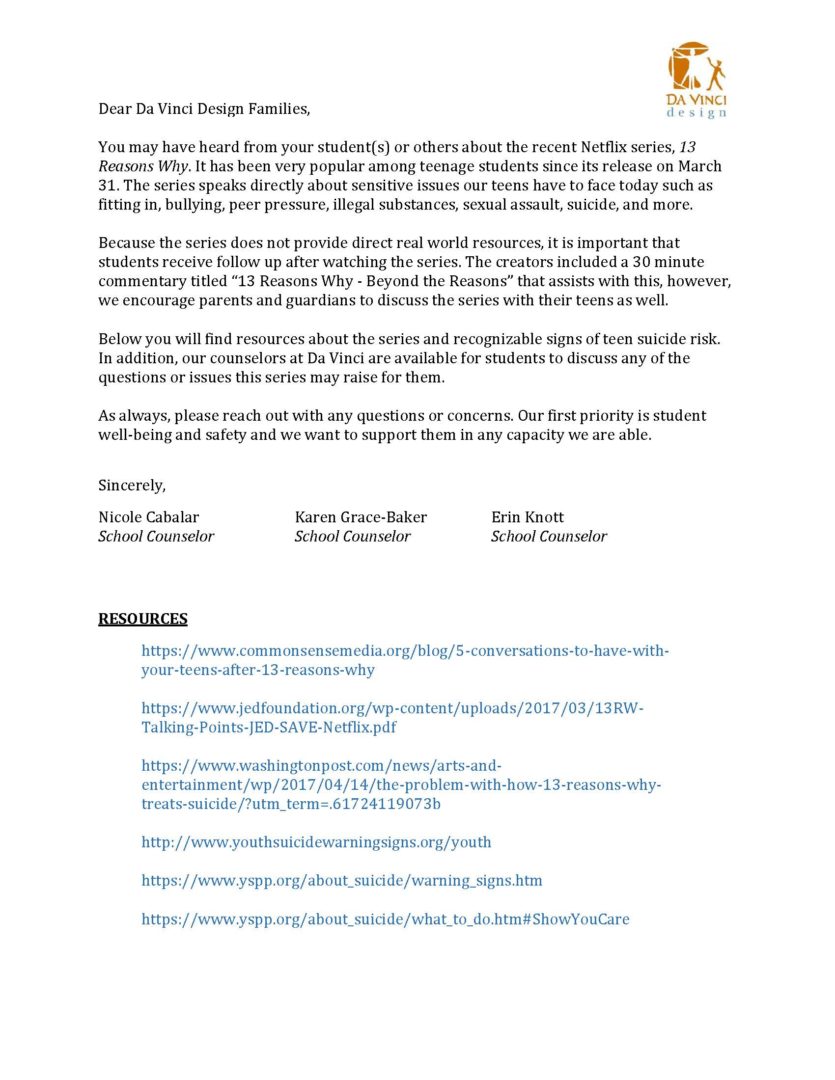 School Site Council Meeting
Tuesday, April 25, 4:45-6:00 pm in Room 402
Agenda: SSC Agenda Meeting 4-25-17
Student Parking Permit Applications for 2017-18
Current Juniors may apply to be part of a lottery for a parking permit for the new campus next school year. There are limited spaces available so don't delay!
DV Parking Permit Application -Students
Graduation Speaker Application for Seniors
Seniors, applications for student graduation speakers are available now.  They are due by May 4th at 4:00 pm to the Principal's office. We look forward to your submissions!
DVD Graduation Speaker Application 2016-17
Annual Giving Campaign
The 2017 Annual Giving Challenge Is On!
Donate or Pledge by April 30 and Your Gift Will Be Doubled!
There's never been a better time to support Da Vinci Schools! Thanks to the extraordinary generosity of Belkin, Northrop, Chevron, Gensler, 72andSunny, Kinecta Federal Credit Union, and Continental Development, all gifts to the Da Vinci Schools Annual Fund will be matched dollar-for-dollar, up to $75,000.
Make your donation or pledge by April 30 and your gift will be DOUBLED.
Every gift makes a difference. Please consider making a tax-deductible gift or pledge today by clicking this link (http://www.davincischools.org/makeagift.shtml). We thank you!