Week 28 Update – Exhibition Week!
Designers – Exhibition Week is here! We look forward to seeing all of the families and community members on Wednesday night from 6-8 pm.  Please be mindful of the residents in the neighborhood when parking and driving that evening!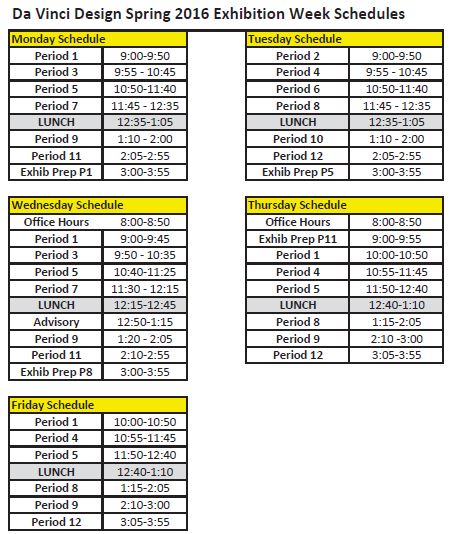 Da Vinci Design Summer Camp Applications are now available for this summer!  Accepting applicants entering 1st through 6th grade.  The camp is run by Da Vinci Design teachers and students.  Spread the word!
Application Link: http://www.davincischools.org/pdfs/DV-camp-flyer-2016.pdf
DVD Summer Art Camp Link with Info: www.dvsummerart.weebly.com
Annual Giving Campaign–Double Your Donation Now Through 3/31
Time is running out to double your donation! Thanks to a generous matching challenge by Chevron, Belkin, Northrop and Kinecta, every donation and pledge made to the Annual Giving Campaign by March 31 will be DOUBLED, up to $50,000.
We are so grateful to those families who have already donated, yet our Da Vinci Design giving participation stands at only 12% to date. We are seeking 100% family participation. Your contribution provides immediate support to Da Vinci's top priorities. This year we have a $500 per student gap between what the state provides and what it really costs to deliver an outstanding Da Vinci education.
Every gift matters! Make a tax-deductible gift or pledge today by using this link.
We thank you!