Updated Exhibition Bell Schedules & AGC
Designers – below are the most updated bell schedules for this week. We look forward to seeing you at Exhibition on Wednesday night at 6 pm!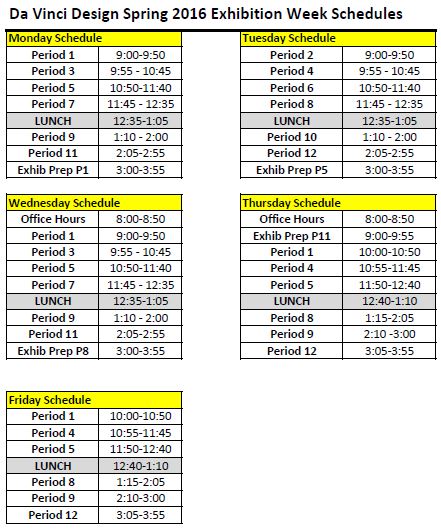 Annual Giving Campaign–Double Your Donation Now Through 3/31
Time is running out to double your donation! Thanks to a generous matching challenge by Chevron, Belkin, Northrop and Kinecta, every donation and pledge made to the Annual Giving Campaign by March 31 will be DOUBLED, up to $50,000. Please make a gift or pledge today.
Recently a few of you asked how the Annual Giving donations are used at DVD. Thank you for asking!  We use your Annual Giving dollars to do so many things! You have probably noticed that we have a dedicated Fab Lab stocked with many great art and design supplies.  Your dollars also support our real-world, project-based curriculum, college visits, technology, and a classroom materials budget for every teacher.
There is a $500 per student gap between state dollars and what we need to operate the high quality program that we provide. Your donations ensure that programs like Early College, Work Experience, and teacher budgets are all possible.
Thank you for any donation you can make and as a reminder, your donation will be matched (that means doubled!!!) before March 31st.
I hope you will join me in donating. Our current family participation rate is 15%. No matter the size of your donation, knowing that 100% of families want all of our programs to continue and therefore donate to keep them in place means a lot!