Week 32 Update – Testing, Sharefest, and more!
Designers, there is more testing this week but now for our 9th and 10th graders! Students in grades 9 and 10 also get to attend the NACAC College Fair this week.
Don't forget to sign up for a spot at Sharefest on Saturday 4/30 and earn your service hours!  If you attend for the full 5 hours, you are halfway done your service hours, and you get a free t-shirt if you sign up by tomorrow (more info below).
Have a great weekend!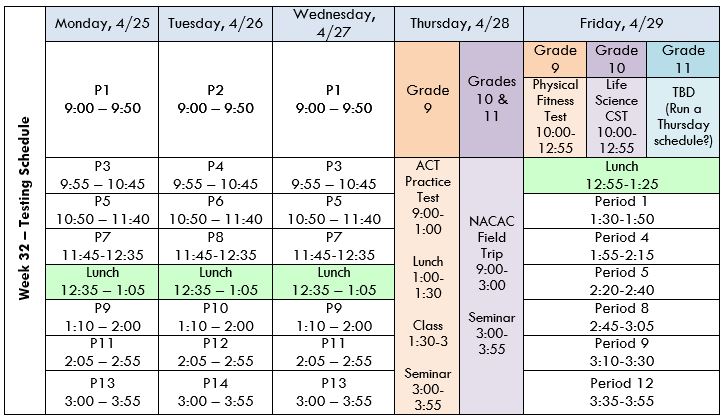 Sharefest Info 4/30, 8 am-1 pm
Designers – do you need to finish your service hours for the semester? Want to help beautify our campus? Please sign up below if you plan on attending the Sharefest Community Workday at Da Vinci Design on April 30th from 8:00 am – 1:00 pm.
Lunch, snacks and water will be provided for volunteers, as well as a Sharefest t-shirt! (Be sure to sign up by Friday 4/22 to guarantee receiving a t-shirt.)
We will be beautifying our campus by planting new vegetables in the gardens, repainting walls, cleaning, building new benches, and more, alongside community partner Balfour Beatty Construction! Da Vinci students can receive up to 5 service hours if they attend the entire time.
Family members and community members are welcome to sign up as well at the link below. We look forward to seeing you there!
DVD Sharefest Community Day Sign Up Form
Questions? Contact Kate Parsons, principal, at kparsons@davincischools.org or 310-725-5800 ext. 2701.