Week 31 Update – SBAC Testing, Career Speaker Series, and more!
Designers – this week our 11th graders will be taking the SBAC tests and there is a career speaker series on Friday!  Check out the schedules below for more details.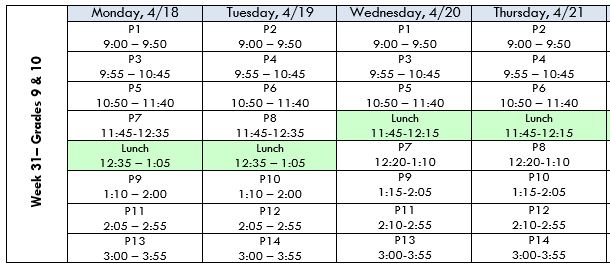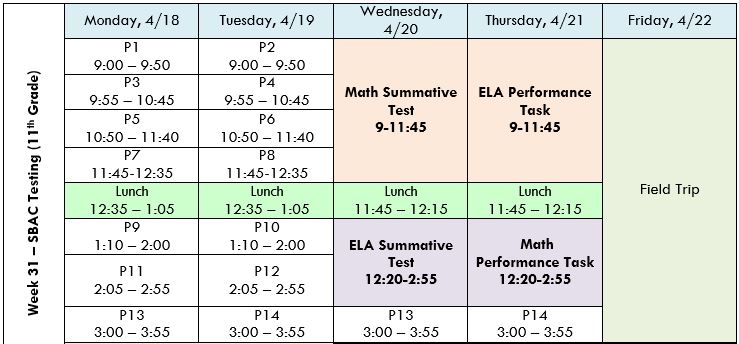 Grade 12 will run from 9:00-3:55, same lunch times as 9th and 10th grade, but will be in senior project rooms running their Pitch POLs.  On Friday, there will be the career speaker series and the schedule is below: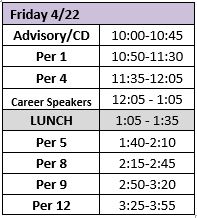 Pianist needed for Spring Musical
A message from our Drama program lead, Adam Kalma: Hello DV community! Da Vinci Schools is producing the musical "You're a Good Man, Charlie Brown," which will be performed at DVS Forum on May 19 and 20. We are currently in need of a pianist to accompany the cast, so we are requesting anyone that could help or knows someone who could to please reach out. You can contact the co-director Mr. Adam Kalma at akalma@davincischools.org if you can assist in any way. Thank you so much!
Annual Giving Update
We Did It!
Annual Giving Surpasses $150,000
Chevron, Belkin, Northrop and Kinecta challenged Da Vinci Schools to raise $50,000 — and WE DID IT!
Thanks to your amazing support, we raised more than double our goal. Combined with the generous corporate gifts, a total of $150,575.82 in gifts and pledges was raised for our Da Vinci students!
Way to go, Da Vincians!!
There is still time to make a tax-deductible gift or pledge! You can drop a check off at your school office, or give or pledge online at  www.davincischools.org/makeagift.shtml. All pledges must be paid in full by June 1, 2016 to be eligible for the match. Please fulfill your pledges today at the web address above. We thank you!!
Sharefest WorkDay – April 30th
Students, do you still need your service hours? Do you want to help improve our campus? Then you can participate in our Community Workday on Saturday, April 30th and beautify our campus alongside Balfour Beatty Construction – the sponsor of our project! We will be building and fixing benches, planting new gardens, repainting walls, building display cases, are more!
Students, family members and community members are all welcome to volunteer that day.  Sign up with a group of friends, or maybe come as an advisory and support each other in getting your service hours! Be on the lookout for a sign up link in the next few days.