Week 5 Preview
Greetings Designers and Design Families,
Week 4 at DVD was short but sweet! We wrapped up MAP testing in 9th grade, ended the week with a field trip to the Museum of Flight in our Architecture Pathway, and also had our first Community Dialogue (aka: "CD") Friday morning. At CD, we introduced our Advisory names and mascots, celebrated our All-Star students, and had our new staff play Steal the Bacon. It was a great day for building spirit and community at DVD! See pictures from our first CD below!
Next week, we have another short week, since Friday September 15th is our first Staff Development – No School day. We hope our students are able to enjoy the day off while staff prepare for upcoming school events, plan projects, and update grades. AND – Back to School Night is next week on the night of Thursday, September 14th! Back to School Night is a great opportunity to hear about classes, make connections with your students teachers, and tour classrooms at DVD. Each grade level will begin with an assembly in the Blackbox theater from their grade-level teams, and then will head up to the fourth floor to meet and greet teachers in classrooms. See the schedule for Back to School Night here: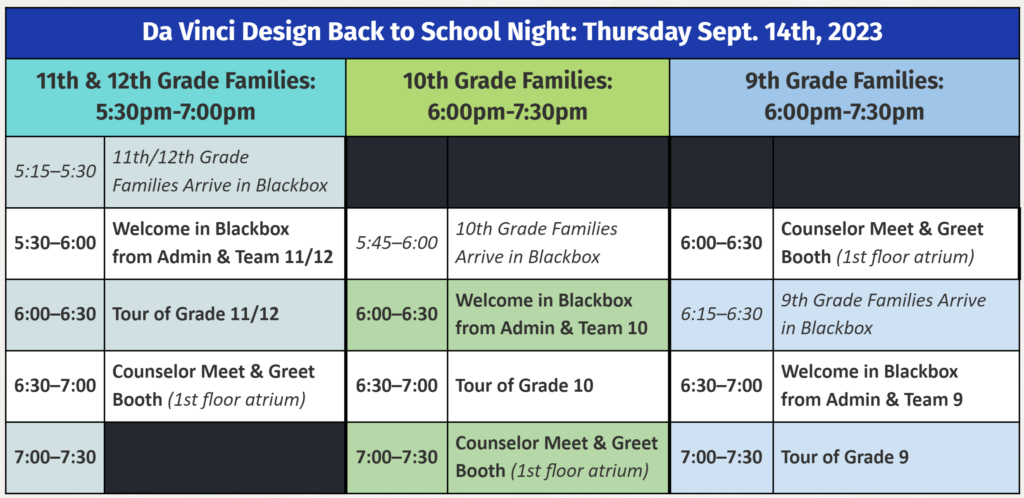 Lastly, we wanted to share a message on behalf of our Central Office regarding the Grand Ave drop-off area:
"The Pilot Drop-Off Program on Grand Street is still going really well! These past four weeks drop off at this new location in the morning has been very smooth and efficient. For now, DVD families should only use the regular, main drop-off area in the front of the school. It is important that we test the volume of one school at a time for this pilot program to work effectively, and so that we don't risk the possibility of losing this new drop off area. Your cooperation is greatly appreciated!"
Here is the Week 5 Bell Schedule for DVD:

Upcoming Events and Key Dates:
Wednesday 9/13 & Thursday 9/14: MAP Testing for 9th Grade
Thursday, 9/14: Back to School Night @ 5:30pm
Friday, 9/15: No School – Professional Development Day
Thursday, 9/21: DV Club Fair
Campus Highlight Week 4: September Community Dialogue!