2023 Summer Career Training Programs – Apply by May 22!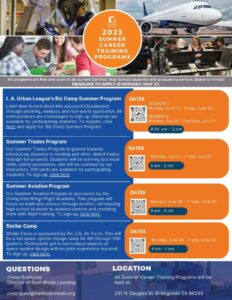 Da Vinci Families,
We are excited to announce that we will be hosting a number of Summer Career Training Programs around the trades, entrepreneurship, aviation, and space system designs. All programs will take place at our 201 N. Douglas campus, and will be free and open to all current Da Vinci high school students, including graduating seniors. Space is limited! DEADLINE TO APPLY IS MONDAY, MAY 22.
Please see the flyer for more information about each program:
L.A. Urban League's Biz Camp Summer Program
Summer Trades Program
Summer Aviation Program
Stellar Camp
If you have any questions please contact Ms. Crissel Rodriguez, Director of Real-World Learning, at crodriguez@davincischools.org.