Exhibition Week Wrap Up and End Of Semester Schedules (Happy November Break!)
Greetings Designers and Design Families!
What a great week at Design! Congratulations to our 10th and 12th grade for a fantastic Fall Exhibition on Tuesday night. We are so proud of our students and teachers for displaying such amazing work. And thank you to all of our families, friends, alumni and community members for showing up in support – it is the presence of our school community members that make these Exhibitions so special! See below for pictures from Exhibition Night!
Friday 11/18 was packed full of fun activities before break! Shout out to our Alumni Coordinator Pam Baker for coordinating our first ever Alumni Sibling day. It was such a pleasure welcoming graduates back to be on campus and to share their post-secondary experiences with DVD students. Also, our 12th graders went on the annual Downtown LA field trip, and had a chance to bond as a class while getting to explore the culture of downtown. And finally, our 9th grade Fundamentals of Design honors students got a chance to go on a Real World Learning field trip to local architecture firm RIOS with their teacher Mrs. Ryan! See photos from the 9th grade field trip below!
Last but not certainly not least: I want extend a BIG THANK YOU to all of the DVD families who made contributions to our DVD staff gratitude baskets; thanks to all of you for donating time, treats, and messages of gratitude to our staff to help send them off on a much deserved break with a little something to let them know how appreciated they are. We love our DVD families! And, we wish all of you a restful, safe, and fun holiday break!
When we return from the November break, we will have three weeks left of the Fall 2022 semester. Please remember that POLs start on 12/8, and these are minimum days: students will be released early at 1:45pm on POL days. See the Week 15-17 schedules here: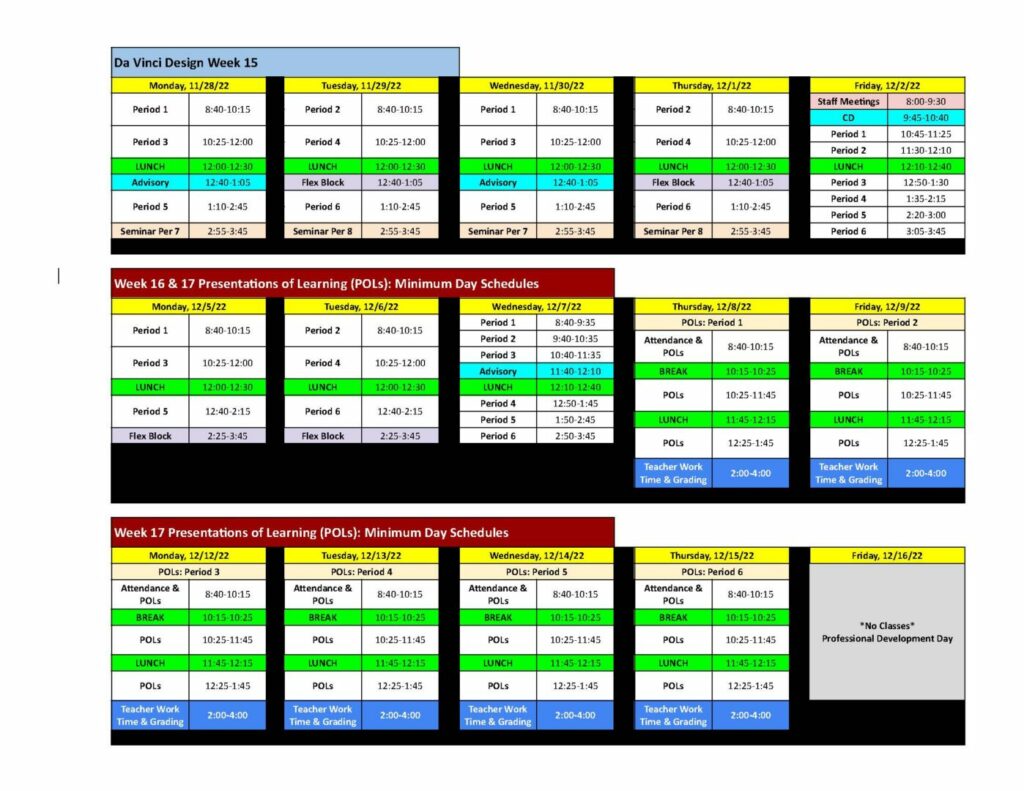 Key Upcoming Dates & Events:
11/21-11/25: Thanksgiving Break – NO SCHOOL
Monday, 11/28: School Resumes
12/1 & 12/2: Last Days for Seminars
12/8-12/15: Presentations of Learning (POLs) – Minimum Day Schedule
Friday, 12/15: Last Day of Semester One
Week 14 Highlights: Exhibition Fall 2022 (11/15)
Week 14 Highlights: 9th Grade Art Honors RIOS Field Trip (11/18)