Teacher Appreciation Week: May 8-12th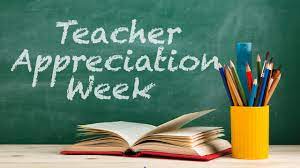 Greetings Da Vinci Design Families,
Next week (May 8th – May 12th) is Teacher Appreciation Week! Feel free to join us in appreciating our staff by helping to provide some treats for our staff this week. Sign up below to drop off some items on the morning on select days for the week of May 8-12th.
If you sign up to drop off a treat for teachers, thank you! Please mark the items "For DVD Teacher Appreciation" and bring it to the first floor reception area. The items will be sent up to the fourth floor from there.
Here are some DVD staff favorites:
Bagels
Donuts
Cookies / Brownies
Fruit
Sparkling Waters
Coffee
Chips
On behalf of the Da Vinci Design staff, thank you!
Sincerely,
DVD Admin