Week 28 & 29 Preview: Exhibition Next Week!
Greetings Designers and Design Families,
Welcome back! Hope you all had a restful and enjoyable three day weekend from school. This week, we are gearing up to get ready for Spring Exhibition Night! On Tuesday, March 28th: 5:30pm-7:30pm our 9th, 10th and 11th grade students will be presenting projects that they have been working hard on for weeks – and all are invited!
Thank you to all of our parents/guardians for joining us during SLC week. It was great to have you on campus! And, thank you for taking the time to fill out our biannual survey while you were here.
If you have not yet filled out the biannual Parent/Guardian survey, please do so! It is crucial that we hear from all of our families; this survey helps us know how to keep doing our best to make DVD an amazing place to be. Do it now!
This week is a regular schedule – see below for upcoming dates as well: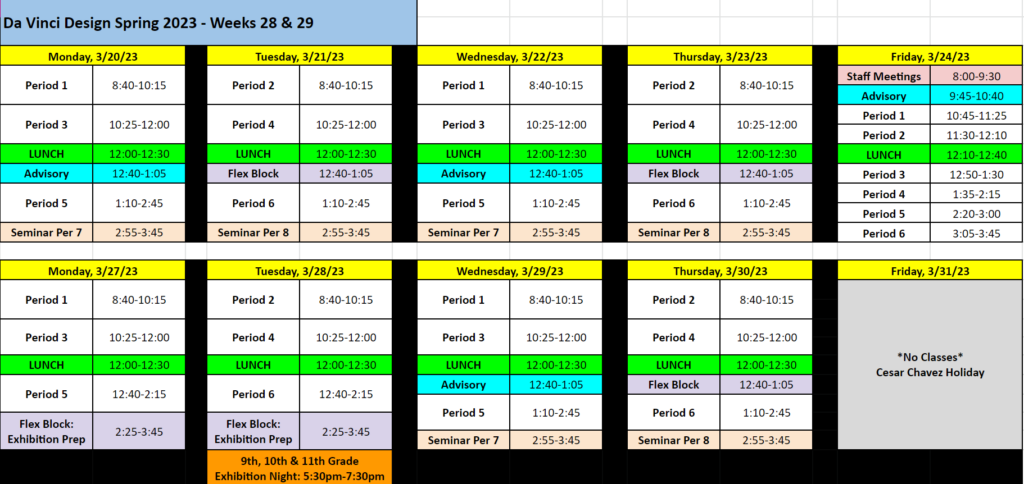 Key Dates and Upcoming Events:
Tuesday, March 28th: 5:30pm-7:30pm: Exhibition Night! (9th, 10th and 11th grade)
Friday, March 31st: NO SCHOOL – Cesar Chavez Holiday
April 3rd – April 7th: NO SCHOOL – Spring Break!
April 10th: School resumes!