Black College Expo 2023
Hey Designers,
The 24th Annual Black College Expo™ is happing this month!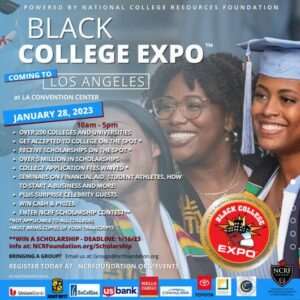 Saturday January 28th • 10am to 5pm PST
Los Angeles Convention Center
Kentia Hall • South Building
1201 South Figueroa Street
Los Angeles, CA 90015
WIN A SCHOLARSHIP! SUBMIT YOUR ESSAY BY: 01/09/23
‍Seniors and Juniors and College Transfer Students meet one on one with over 40 HBCUs and over 150 other colleges and universities . Get ALL you need to know to WIN! Get Educational Resources. EVERYONE is Welcome…it's for Students of ALL Ages…Plus…
Get Accepted on the SPOT, students you must bring your transcripts and test scores (12th graders and some colleges may accept 11th graders)
College Transfer Students this is a great opportunity for you to get accepted on the spot! Bring your transcripts from all colleges that you have attended. FREE for College Students just show your ID.
Application fees waived..so save hundreds $$$.
Scholarships on the SPOT! And we will be giving away CASH at the STAGE…
Black College Expo™ is 10am to 3pm and the After Show from 3pm to 5pm, featuring a Step Show, "Dance Off" for Cash hosted by our celebrity ambassadors. Everyone has the opportunity to win CASH and prizes!!!
STEAM Technology Pavilion powered by American Honda Foundation.
CLICK HERE AND REGISTER TODAY FOR THIS GREAT EVENT!