Week 4 Preview: Back To School Night September 8th
Greetings Designers and Design Families,
Happy Friday! We made it to the end of Week 3 – and a three day weekend is just around the corner. See the Week 4 schedule below. And, speaking of "just around the corner", Back to School Night is Thursday night next week on September 8th!
Back to School Night Information (Sept. 8th, 2022):
Take a look at the times below to see what time you should attend Back to School Night. Each grade will get a special time to meet staff via a presentation in the BlackBox theater, and then will get time to explore classrooms and get one-on-one introductions with teachers.
9th Grade: 5:30pm start time
10th Grade: 6:00pm start time
11th & 12th Grade: 6:30pm start time
NOTE: Back to School Night is a public event that will take place indoors. Our DV Health Team reminds us all that masking is highly recommended, and if you feel any COVID symptoms, please self monitor and stay home.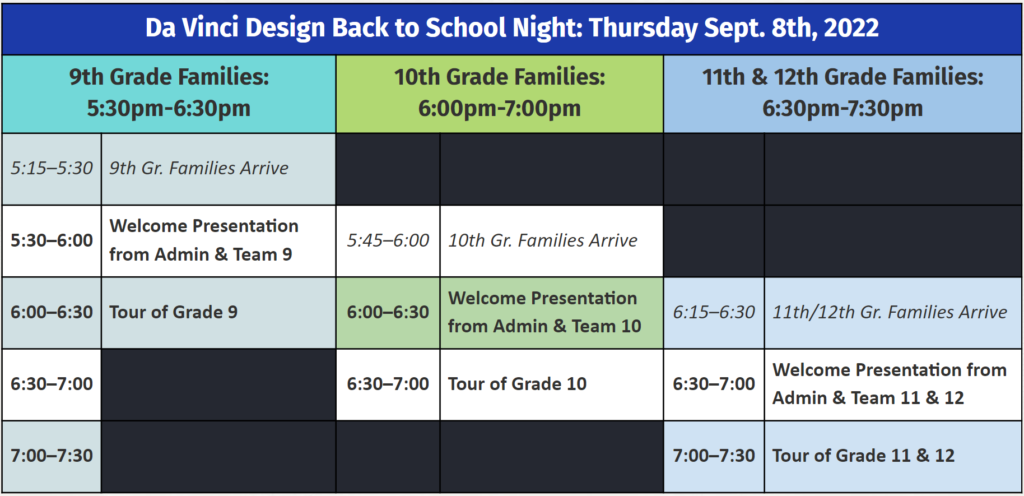 Week 4 Bell Schedule (9/5-9/9):

Upcoming Key Events (Sept 2022)
Monday, 9/5: No School – Labor Day
Thursday, 9/8: Back to School Night @ 5:30pm
Friday, 9/9: First Community Dialogue in the gym!
Thursday, 9/15: DV Club Fair
Friday, 9/16: No School – Professional Development Day