After-School Tutoring Starts Today!
Greetings Designers and Design Families!
I'm happy to announce that DVD will be working again this year with our tutor Jay Mitsch of Gravity Assist tutors! Jay will be available after-school once again this year, in the 4th floor atrium conference (aka: the "Wooden Room") after school for homework help and tutoring. See a message below from Jay!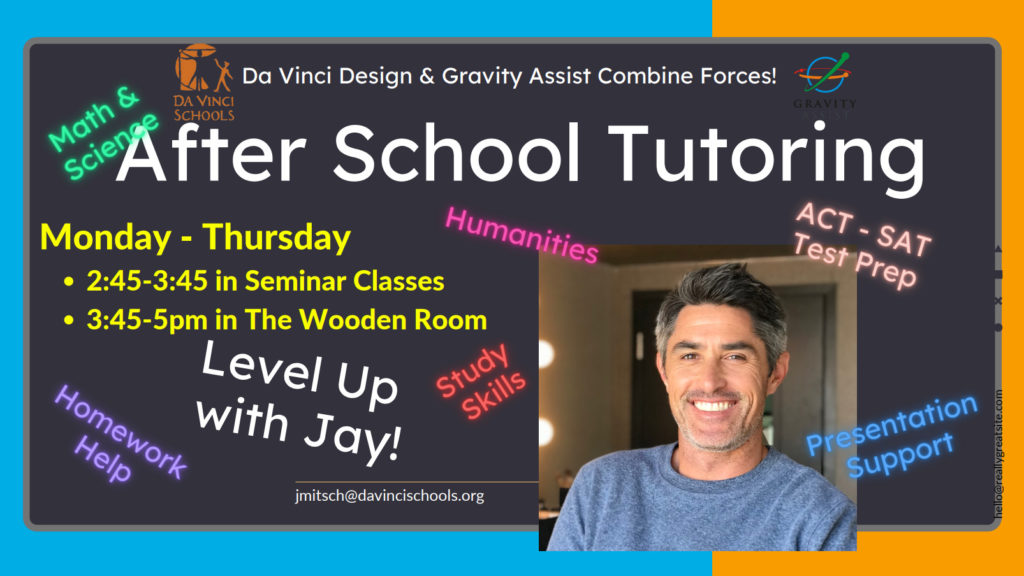 Dear DVD Families,
My name is 

Jay

Mitsch, an educator of 20+ years and owner of Gravity Assist, a customized education company. I'm absolutely excited to work with your Da Vinci students and staff providing academic support for your children. 
Da Vinci Design High School is now offering Individualized Tutoring and After School Support to help students reach their potential. This program is open to all students.  Individualized tutoring will occur during seminar and will require a reservation, or a recommendation from a teacher. The After School Drop-In Support will happen in the Wooden Room at the top of the stairs. No appointment needed… If you have a question or don't understand what is going on in class, just swing by.   
My specialty is in Math and Science, but I can also help across many other subjects. My goal for every student that I work with is to help the student find their success. Being a tutor gives me insight on many things: how the individual students learn; how the teacher structures the curriculum and class; the measures of success for the students, teachers, and school.
In partnership, 
jmitsch@davincischools.org