OTIS College Virtual Panel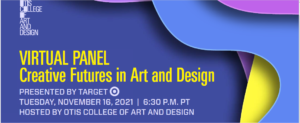 The Otis Fall 2021 Virtual Panel on Creative Futures in Art and Design is sure to be engaging and inspiring to all youth, parents, and educators interested in learning about opportunities in the creative workforce.
This event is just around the corner on Tuesday, November 16, at 6:30pm and is free to the public! Click on the link below to register.