Week 33 – New Schedule beginning May 4th
Greetings DVD Families,
We are excited to see many of our students coming back to campus on Tuesday, May 4th. As a reminder, please review the schedule below as this is a change from our previous schedule. Please note that our start time has changed from 9:30 to 9:00 am.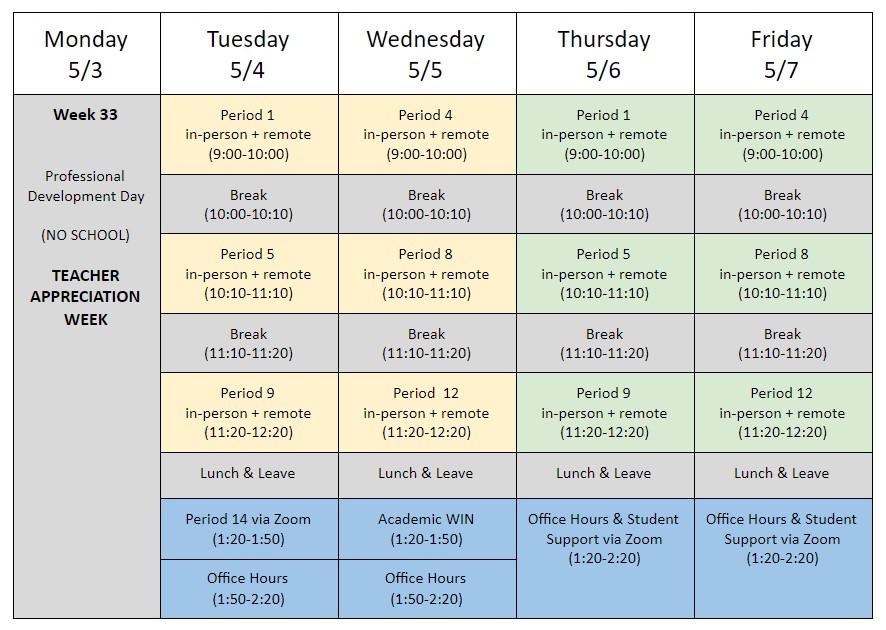 Emails were sent out to families of students who chose to return to campus, on Wednesday, April 28th informing them of whether their student(s) would be coming to campus on Tuesday and Wednesdays as part of Cohort 1 or Thursdays and Fridays as part of Cohort 2. Families of students who chose to continue with distance learning were also informed via email. All students will be attending Advisory remotely on Mondays. Students will not have classes on Monday, May 3rd as our staff will be participating in professional development.
For students who are part of Cohorts 1 and 2, please review the following information prior to returning to campus:
Students should arrive to campus at 8:40, which is 20 minutes before classes are scheduled to begin. Students must have completed this Health Screening Link before their arrival, and they will have their temperature taken prior to entering the building. Students whose temperature is above 100 degrees will not be permitted to enter the building. After the last scheduled class ends at 12:20, students will be required to leave the campus to walk home or be picked up. On their way out of the building, students will have the opportunity to take a "grab & go" lunch at no cost.
When coming to campus for in-person instruction, students should wear a face covering and bring a water bottle, a Chromebook if they checked one out from the school, a charger, headphones and other standard classroom supplies such as pencils, notebooks, etc. In preparation for our return, we encourage you to review our COVID Parent and Student Handbook with your student and let us know if you have any questions.
It has been a challenging year, to say the least, and it would only be appropriate that we take some time to thank our wonderful teachers during Teacher Appreciation Week! Teachers, thank you for everything you do for your students. You are greatly appreciated!
Take care,
Veronica