Week 22 Schedule and Announcements
Greetings DVD Community!
Tomorrow (2/5) is our PD Day and our Senior Portrait Makeup Day. Seniors who are signed up for makeup Cap & Gown photo appointments on Friday should bring their own cap and gown, arrive 15 minutes before their time slot, and be wearing a mask when they arrive.
On Monday, 2/8, we will be holding a 9th grade supply pick-up today from 9 am – 12 pm at our campus, 201 N. Douglas Street in El Segundo. Students will be able to pick supplies for Physics class.
For those of you who missed our monthly Coffee with Veronica and Russell this past Wednesday, you can view the slides here. Included is an overview of the responses we received from the Parent and Student Surveys and updates regarding our commitment to continuously provide our staff and students with culturally relevant, responsive, and anti-racist professional development and instruction.
Here is the schedule and a few reminders about upcoming events.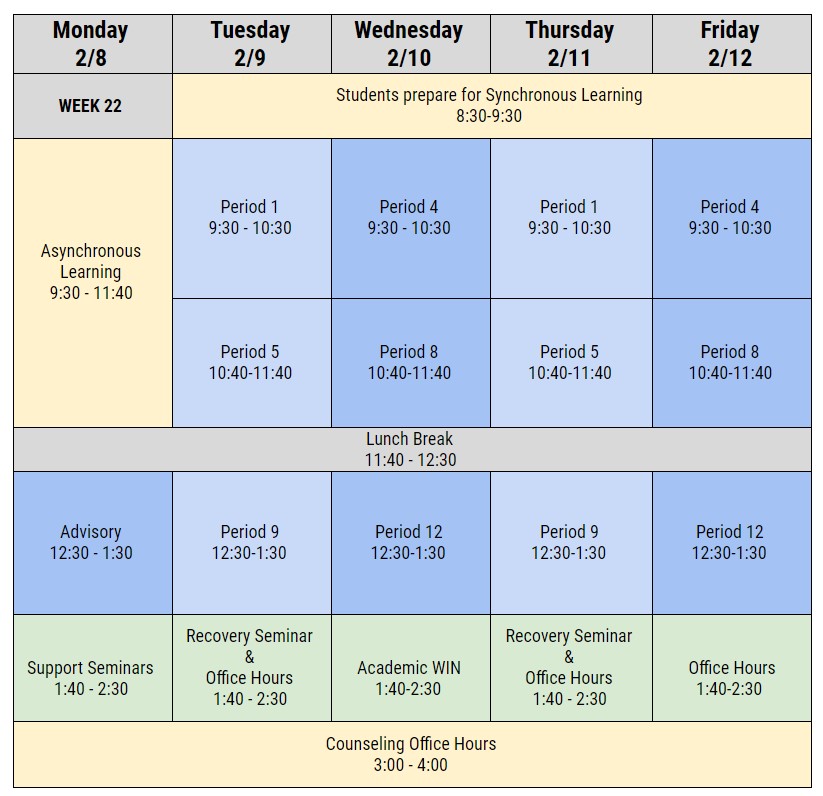 2/5: Professional Development day – NO SCHOOL; Senior Portrait make-up day
2/8: 9th grade supply pick-up day
2/13: Senior Portrait make-up day
2/15: Presidents' Day – NO SCHOOL
2/22: Black History Month Community Dialogue
Enjoy your weekend!
Veronica Rodriguez