Seven Steps to Earthquake Safety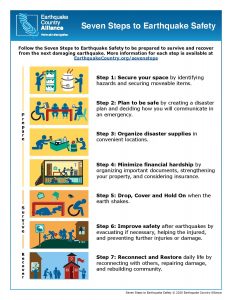 Dear Da Vinci Families, We hope some of you had the opportunity to participate in the Great ShakeOut drill earlier this week! We have additional resources to share with you to prepare your home in the event of an earthquake.  Be sure to follow these 7 steps to be even more prepared when the next earthquake strikes! Visit
EarthquakeCountry.org/sevensteps
to learn more about what you can do to be prepared.
Step 1: Secure your space by identifying hazards and securing moveable items.
Step 2: Plan to be safe by creating a disaster plan and deciding how you will communicate in an emergency.
Step 3: Organize disaster supplies in convenient locations.
Step 4: Minimize financial hardship by organizing important documents, strengthening your property, and considering insurance.
Step 5: Drop, Cover and Hold On when the earth shakes.
Step 6: Improve safety after earthquakes by evacuating in necessary, helping the injured, and preventing further injuries or damage.
Step 7: Reconnect and Restore daily life by reconnecting with others, repairing damage, and rebuilding community.
** Estimadas familias de Da Vinci, Esperamos que algunos de ustedes hayan tenido la oportunidad de participar en el simulacro Great ShakeOut a principios de esta semana. Tenemos recursos adicionales para compartir con usted para preparar su hogar en caso de un terremoto. ¡Asegúrese de seguir estos 7 pasos para estar aún más preparado cuando ocurra el próximo terremoto! Visite 
EarthquakeCountry.org/sevensteps
para obtener más información sobre lo que puede hacer para estar preparado.
Paso 1: Asegure su espacio identificando peligros y asegurando elementos móviles.
Paso 2: Planee estar seguro creando un plan de desastre y decidiendo cómo se comunicará en caso de emergencia.
Paso 3: Organice los suministros para desastres en lugares convenientes.
Paso 4: Minimice las dificultades financieras organizando documentos importantes, fortaleciendo su propiedad y considerando un seguro.
Paso 5: Agáchese, cúbrase y agárrese cuando la tierra tiemble.
Paso 6: Mejore la seguridad después de los terremotos evacuando si es necesario, ayudando a los heridos y previniendo más lesiones o daños.
 Paso 7: Reconecte y restaure la vida diaria reconectándose con otros, reparando daños y reconstruyendo la comunidad.