Week 3 Schedule and Announcements
Greetings DVD Community!
Here is the schedule for the week and announcements about upcoming events.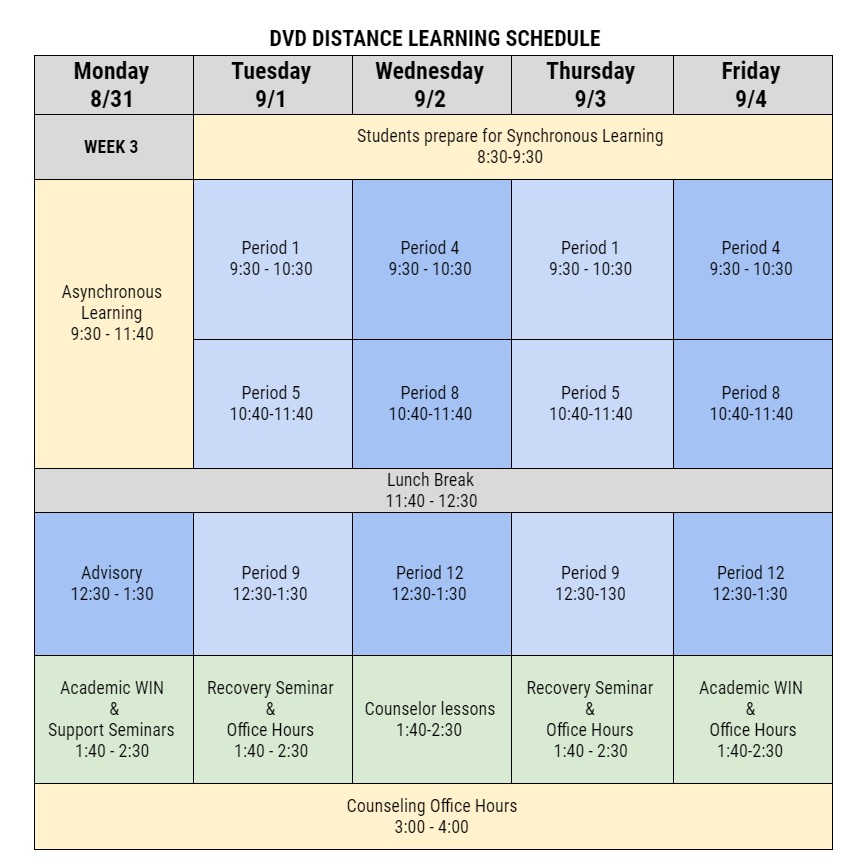 Monday, 8/31
We will be hosting a 9th grade supplies and yearbook pick-up day from 9 am-12 pm. In order to help us better prepare for this event, please click on the link provided here to pre-register, indicating that you will be coming to the campus on this date.
There are also a few yearbooks left for sale. If you would like to purchase one, the cost is $65. Only exact payments in cash will be accepted.
Wednesday 9/2
We will begin our monthly "(Virtual) Coffee with Veronica and Russell" this Wednesday from 8-9 am. Parents are welcome to join using this link. Each month we will discuss topics related to student success and well-being, provide updates and share ideas.
Our DV coaches are going to host a Season Launch Webinar for XC on Wed 9/2 from 5-5:45pm. All interested students are welcome! You can attend by clicking on this link (password = xc2020). We will also be recording it for sharing afterwards.
Parents, please click on the following link (DVD SSC 2020-21 Elections) to vote for this year's School Site Council members by 5 pm on Wednesday, 9/2.
Have a wonderful weekend!
Veronica Rodriguez