Week 11 Schedule and Upcoming Events
Hello Designers!
We had so many great things happening on campus this week! We celebrated Latinx Heritage Month at our CD today with a special performance by Mariachi Los Reyes and Folklorico dancers, and Senior Committee was hard at work getting everything ready for the Spooky Kickback happening tonight!
Below is the schedule for next week. There will also be a special schedule for 11th graders taking the PSAT on Wednesday, October 30th.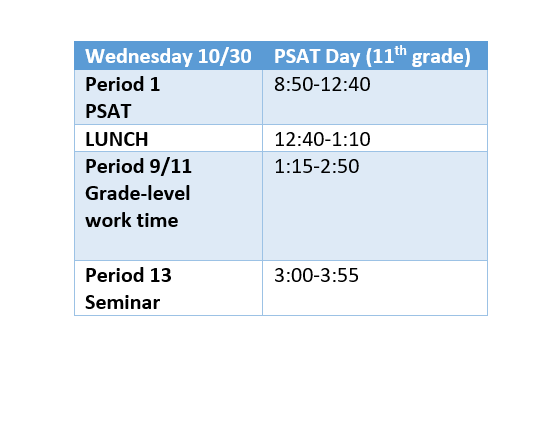 We have several activities/events happening next week. Please scroll down/click on links to view information about upcoming events. As a reminder, students are asked NOT to wear masks or bring in fake/toy weapons to school on Halloween. When choosing costumes, please be aware that the dress code applies for all school events.
UPCOMING EVENTS:
10/28-11/1: Spirit Week
10/28, 10/30-31: Spirit Week Photo Booth (during lunch)
10/29: 9th grade Field Trip – Dwindle Skateboard Co.
10/30: PSAT Day for 11th graders
11/1:Dia de los Muertos Event (5:30-8 pm)
11/11: Veterans' Day – NO SCHOOL
11/15: DV Homecoming Dance
11/15: PD Day – NO SCHOOL
Enjoy your weekend!
Veronica Rodriguez