As we begin this week, we wanted to take this time to thank all of you, the parents and guardians, who came out last week to participate in your children's Student-Led Conferences (SLC). Our students shared their accomplishments and their goals for improvement along with an action plan to reach those goals. These are a very important part of the education of our students which help to ensure a high level of communication between them, the staff and you.
In light of recent events that occurred with some of our neighbors, in particular the Elevon Campus located on Douglas Street north of the Da Vinci schools, we are asking for your cooperation in adding one more goal for all of our students that includes you too: Being good neighbors.
Last week we were again notified by businesses in the area that some of the actions of our students have been anything but neighborly. Unfortunately, this is not something new, as this was addressed back in November 2018.
Several of our students have been ignoring posted signs (see below) and were caught trespassing in areas that are private property at the Elevon Campus, such as the second story which has no stores or locations open to the public. They were disruptive and rude to several of the employees that work there. We are all in agreement that these students do not represent all of the wonderful students we have attending our schools, but the very public actions of these students reflect poorly on us all. This has been a recurrent problem since late last school year, and the business owners have been extremely patient and cooperative, working with us as much as possible to address this matter. However, because of the level of disruption experienced last week, it has now reached a point where Elevon will be addressing future incidents of students trespassing on private property with us AND the El Segundo Police Department. Students are not allowed to loiter at the Elevon Campus and must be accompanied by a parent or guardian at all times.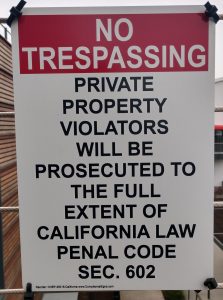 The message to our students that they need to hear from you is this: Please respect our neighbors in the community and conduct yourselves accordingly; if certain behaviors are inappropriate at home or on campus, those behaviors are also inappropriate off-campus at neighboring businesses.
In addition, Elevon and other surrounding businesses have notified us that some families are still using their parking lots for drop off and pick up of students. As part of the action plan for accomplishing the goal of being a good neighbor, please do NOT use the Elevon Campus or other nearby business parking lots for dropping off or picking up your students and remind them to behave appropriately wherever they may be. This also applies to students using ride-sharing services like Uber and Lyft. These incidents are being reported to us and will be addressed with both you and your students as necessary.
We thank those of our students and families who have been respectful of our neighbors; we expect all our students and families to behave appropriately in our community, as we all represent Da Vinci Schools.