Week 4 Update
Designers, we hope you enjoyed your first week of seminars during Week 3!
Week 4 updates, announcements and reminders below. There is no school Monday 9/3 for the Labor Day holiday, and no classes in session on Friday 9/7 due to a professional development day.
BACK TO SCHOOL NIGHT
Wednesday 9/5 from 5:30-7:30 pm
Report to your student's advisory class first; you will receive their schedule and the schedule for the evening there
Parents will attend advisory and core academic classes
Counselors will be available in their offices to meet with families as needed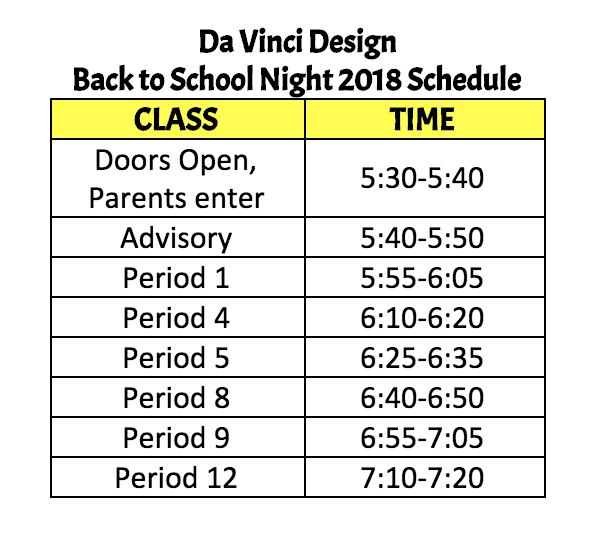 CLUB FAIR
Thursday 9/6 from 10:45-11:45
Students will be able to learn about the club offerings available to them this year and sign up during this extended advisory period.
SENIOR PORTRAITS
Senior Portraits are offered by photographer Stacee Lianna
See flyer images below and contact Stacee with any questions at stacee@staceelianna.com
DVD SCHOOL SITE COUNCIL
Students, parents and teachers: Would you like to be part of Da Vinci Design's School Site Council? If you would like to nominate someone, or nominate yourself, for a seat on the Da Vinci Design School Site Council, we have more open slots this year! The council meets 4 times a year to discuss, vote on, and provide feedback on various school programs and topics.  We are looking for parent and student nominees. If you are interested in being nominated for the council or would like to nominate another individual, please fill out this FORM by Friday, September 7th.   Voting for the council will take place via an online survey posted to the blog later the following week and new members will be announced once voting has closed.
Athletics Info for the Week HERE
Have a wonderful long weekend!