Da Vinci School students invited to attend the RRS 75th Anniversary Rocket & Space Symposium, April 21, 2018
Dear DVD Students,
You are invited to attend the Reaction Research Society's 75th Anniversary Rocket and Space Symposium on April 21st from 9:00 to 5:00 pm. There will be exhibits and presentations about topics such as engineering and STEM education. This is a great opportunity for students interested in science and engineering.
Please see the attached flyer for more details about the event. To get your free ticket, visit: https://www.eventbrite.com/e/rrs-75th-anniversary-rocket-and-space-exhibit-symposium-tickets-41935351766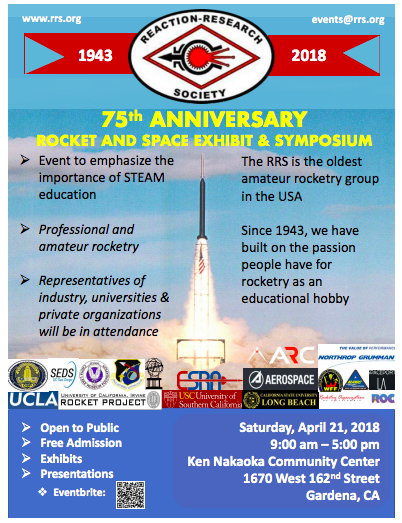 Thank you.