El Camino College Space Science Day – Saturday, March 10
El Camino College invites DVD students to Space Science Day 2018
 at El Camino College on 
Saturday, March 10!
The day is designed for students interested in science in grades 5 through 12. Once again, the whole event is FREE – including lunch for the first 900 students. Because of limited space, and to ensure a seat and early check-in, students should sign up now. To make reservations go to
bit.ly/eccspace
.
For more information, check out the flyer: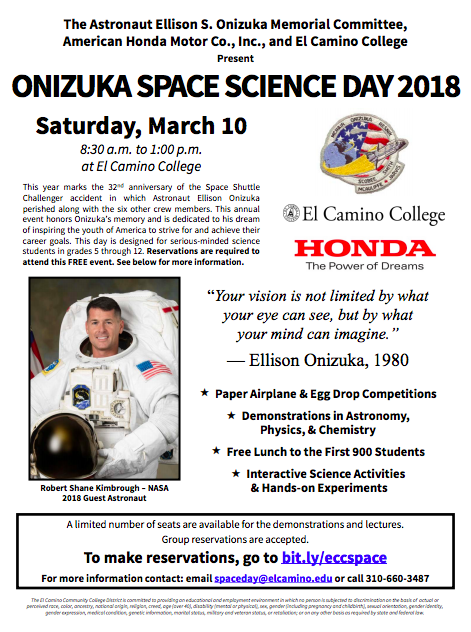 More information will be sent as the date nears to all who sign up. Check-in will begin shortly before 8:00 a.m. on Saturday, March 10. The day will end just after lunch with the awards for the Egg Drop Competition. Once again, parents, teachers, and administrators are welcome and encouraged to attend. 
An Arts Contest is also being conducted for El Camino College Space Science Day 2018, with the winner receiving an invitation to meet and attend dinner with Astronaut 
Kimbrough
 on Friday, March 9, 2018. The winner will be able to bring 3 guests to the dinner as well – usually the parents and one sibling or friend. Only students in grades 5 through 12 are eligible for the contest: 
Onizuka Space Science Day Arts Contest
Theme: "Space through My Eyes"
Accepted forms of artwork: drawing, painting, printmaking, computer-generated image, photograph, or photographic collage. Art must be original – reproductions of other artwork are not accepted.
·
Only new pieces of artwork inspired by the theme may be submitted
·
Each entry must be the original work of one student only
·
Student should give the artwork a unique title
·
Include with the entry: the student's name, age, home address, phone number, parent's email, grade in school, teacher's name, and school they are currently attending
Please submit a digital photo or scan of the artwork as an attachment to 
spaceday@elcamino.edu
, or mail to Brian Hayden c/o Space Science Day, 16007 Crenshaw Blvd. Torrance, CA 90506. The deadline to receive artwork is 
Tuesday, February 27, 2018
 at 10:00 p.m.
All entries become the property of El Camino College and may be reproduced in print form, along with the identity of the winner, in our Space Science Day Event or Dinner Program.
 El Camino looks forward to seeing you at
 Onizuka Space Science Day 2018!