Last Day of School – Wed 6/7 + Summer School Info
Last Day – Minimum Day Tomorrow
Designers, tomorrow is the last day of school for the 2016-2017 school year.  We have a minimum day for all students running from 9:00 am – 1:30 pm.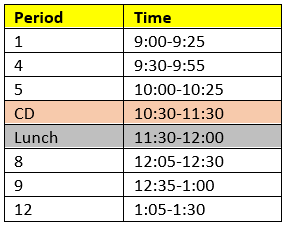 Summer School Info
If you are in need of recovering credit and are enrolled in summer school, Session 1 summer classes begin on June 13 and run from 8:00 am-12:00 pm daily until June 29. Session 2 runs from July 5-July 21.  Many of you have already received a form from your counselors and need to turn them in as soon as possible. As outlined in the registration form, uou are not allowed more than one absence (or three tardies, as 3 tardies = 1 absence).
Congratulations, Class of 2017! We look forward to your graduation this evening!