Hello Da Vinci Design families!
This upcoming Wednesday, November 9th, Da Vinci Design is hosting a FAFSA Workshop! The event will take place between 5:30 pm-7 pm in Room 208 (Patrick Hidalgo's Room).
El Camino College Financial Aid representative, Lizet Salazar, will be present to assist parents/guardians through completing the FAFSA application. Information will be provided in English and Spanish and the FAFSA can be completed in either language. Please come on time to get a computer. If you come after 6:30, we cannot guarantee that you will get your FAFSA completed and submitted. Doors will be locked at 7pm!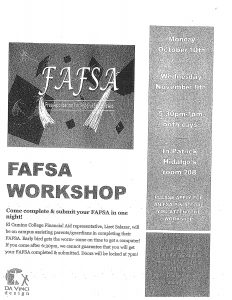 To RSVP to the workshop please click on the link below:
https://docs.google.com/forms/d/e/1FAIpQLSf6sSqBDUWzYXM7R0oR36iatSPDWAbMC8lqOvCRNiXF1k-9Cg/viewform
Please apply for an FSA PIN before you attend the workshop in order to submit the FAFSA in its entirety. To apply for a FSA PIN go to:
https://fsaid.ed.gov/npas/index.htm
We hope to see you Wednesday!