Week 24 Update – College Field Trip Week!
Designers – it's college field trip week! 9th, 10th and 11th graders – check out the weekly update below for date specifics and make sure to turn in your permission slips to the counselors.
Seniors – don't miss the Coffee and Chat with the counselors on Tuesday morning and the FAFSA Workshop Night on Wednesday night. We look forward to seeing the final mural work this Friday – very exciting stuff!
Don't forget to follow the Da Vinci Design Instagram account (@dvdig) to see what's happening on campus!
Have a great Friday and wonderful weekend!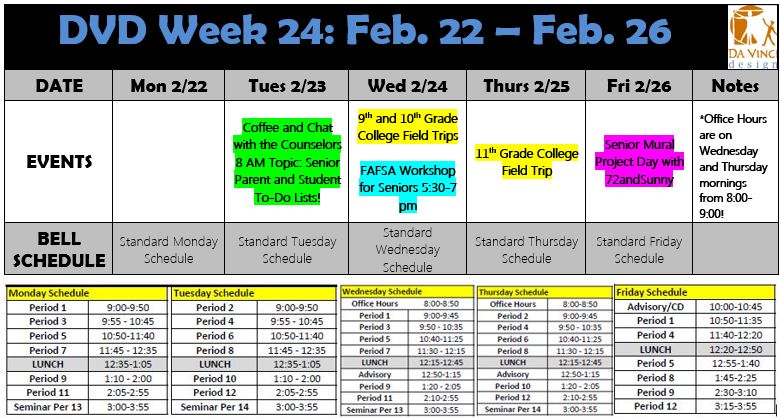 New High School Campus Construction Updates – Subscribe Today!
Get the latest news and updates on our new high school campus delivered to your phone by subscribing to our construction blog at douglasat201.org.
Designed by Gensler, the world-class modern and sustainable campus at 201 N. Douglas St. in El Segundo, CA, will incorporate the latest technology and hands-on, interdisciplinary environments for collaborative, project-based learning. The new campus, slated to open in August 2017, will house Da Vinci Science on the 2nd floor, Da Vinci Communications on the 3rd floor, and Da Vinci Design on the 4th floor. Da Vinci and Wiseburn administrative offices will be housed on the 1st floor.
According to the construction timeline, the main building will be available for use by students in August 2017. Phase 2 (the gymnasium, pool and an athletic field) is expected to be completed by Spring 2018.
Annual Giving Campaign – Double Your Impact – Deadline March 31
There's never been a better time to support Da Vinci Schools! Thanks to a generous matching challenge by Chevron, Belkin, Northrop and Kinecta, every donation and pledge made by March 31 will be DOUBLED, up to $50,000.
All pledge payments must be received by June 1, 2016 to be eligible for the match.
The Annual Giving Campaign is our top fundraising priority – and the fundraiser we ask EVERY family to support. Gifts to the Annual Giving Campaign make up the difference between what the state provides and what it really costs to deliver an outstanding Da Vinci education.
Every gift makes a difference.  Make an online tax-deductible gift today by clicking on this link: http://www.davincischools.org/makeagift.shtml.
We thank you!
Make A Gift – Da Vinci Schools

Da Vinci Schools provide excellence in design, science and overall education for Hawthorne, El Segundo and LAX neighborhoods.