Hello Designers!  Only two weeks of first semester are left!
POLs begin on Tuesday 12/8.  Please view grade level schedules below and contact your child's teachers with any specific questions!
Students should arrive at the very start of their POL session.  If they arrive more than 30 minutes late and unexcused, they will need to complete service hours.
Come out to support our DV Wolves – we have a sports game every day next week!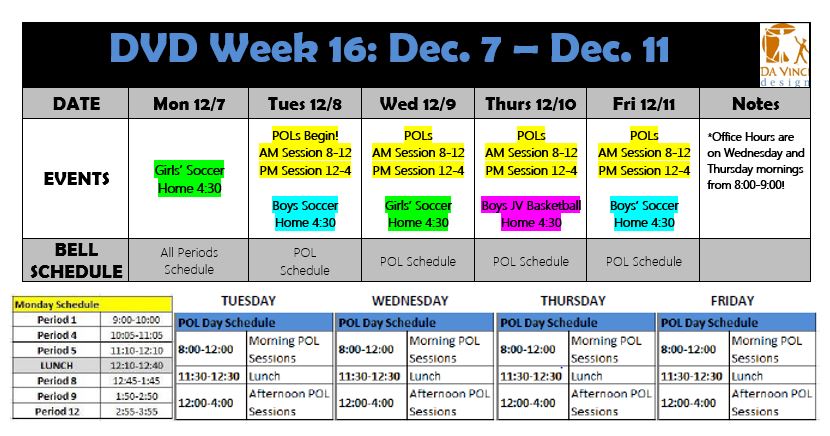 POL Schedules by Grade Level
9th Grade: Fall 2015 Freshman POL Schedule
10th Grade: Fall 2015 10th Grade POL Schedule
11th Grade: Fall 2015 11th Grade Schedule
12th Grade: 12th Grade Fall POL 2015, 12th Grade Fall POL 2015 (2)
Annual Giving Campaign
Please consider joining Da Vinci families and staff in pledging their support to Da Vinci Schools by joining our Annual Giving Campaign! http://www.davincischools.org/makeagift.shtml
Thanks to the extraordinary generosity of Chevron, Belkin, Northrop, and Kinecta, all donations to the Da Vinci Schools Annual Fund will be matched dollar-for-dollar, up to $50,000. This matching challenge is only available for a limited time. Make your donation or pledge by March 31, 2016 and your gift will be doubled. All pledge payments must be received by June 1, 2016 to be eligible for the match.
Dollars raised through the Annual Fund benefit every K-12 student by providing hands-on curriculum for every age level, a $1,000 materials budget for every teacher, innovative educational technology, and the day-to-day operating expenses that are not funded by the state of California.
Athletics
Our basketball and soccer teams have started their seasons – check the schedules being posted under the athletics tab of the blog for game details (link below). Go Wolves!
https://davincischools.org/game_schedules.shtml
School Site Council Meeting
Wednesday, December 9 at 5:00 pm in Room 103 (SSC Agenda Meeting 12-9-15)