Back to School Night Reminder + Info
Hello Designers! Just a friendly reminder that Back to School Night is tomorrow night, Wednesday 8/26, from 6:00-8:00 pm.  You will begin in your child's advisory classroom and then run through their entire schedule, as seen below: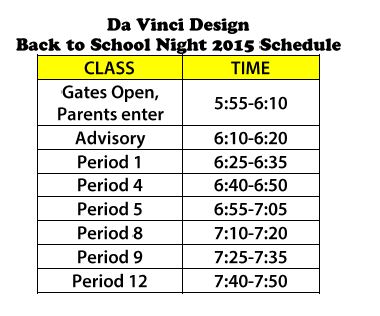 Our counselors will also be available in the board room (front office area) should you want to meet and chat with them as well.  We look forward to seeing you there!
Allow ample time for parking and we ask that you please respect the surrounding residential area by obeying the traffic and parking regulations.
Also, if you would like to nominate someone, or be nominated, for a seat on the Da Vinci Design School Site Council, we have a few open slots. The council will meet 4 times a year in the evenings to discuss, vote on, and provide feedback on various school topics.  We are looking for parent and student nominees. If you are interested in being nominated for the council or would like to nominate another individual, please send a brief bio as well as the reasons you are interested to Kate Parsons, Principal, at kparsons@davincischools.org by Monday August 31st.  Voting for the council will take place via an online survey posted to the blog later that week and new members will be announced once voting has closed.