OMD's Ben Abt featured guest in Da Vinci's Career Speaker Series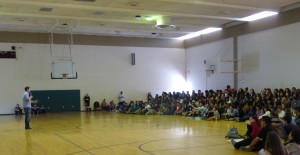 Da Vinci Schools kicked off a career speaker series today with a talk from a digital media expert from one of the nation's top advertising agencies.
Ben Abt, an Associate Media Director for OMD USA, spoke to about 250 juniors and seniors at Da Vinci Design about his career trajectory. Abt, 34, manages a team of 10 people whose clients include The CW, Smashbox Cosmetics, Universal Studios Hollywood, and the Hawaii Visitors and Convention Bureau.
Growing up in Boston, Abt said his own career trajectory "zigged and zagged" from music to teaching to video game testing and, finally, to advertising. He earned three degrees (including a Master's degree in math) and went to five colleges in eight years.
"I believe you've got to change things up in order to stay motivated," he said. Abt said that changing jobs frequently is the new normal. He told the students not to be afraid to change careers. "It's a different world today than it was in the 1960s."
Abt said the most important thing for new hires is to be competent and reliable. "I want to know that if I a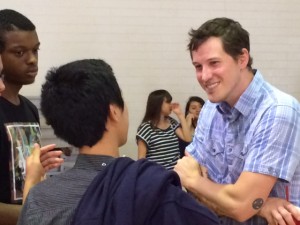 sk you to do something that you're going to do it." He also said entry level employees should be proactive, eager, excited and enthusiastic. "Enthusiasm is much more important than what college you went to and what degree you earned."
Abt, who helps clients decide how to spend their advertising dollars, drew many laughs and high-fives from the audience when he said the advertising industry offers a great lifestyle because employees get a lot of free stuff from clients, can have tattoos, piercings and blue hair, bring their dogs to work, and earn over $100K.
Abt also gave students the following advice:
Have a Plan A but always be working on Plan B.
Take advantage of internships both in and out of your comfort zone.
Be prepared. Do research on a company before you go into an interview.
OMD (www.omd.com) is an integrated communications agency delivering media and marketing solutions globally. OMD USA was named the 2013 Global Media Agency of the Year by ADWEEK.
The Career Speaker Series is being organized by Da Vinci's Real World Learning program. Upcoming presenters will include speakers from Vans, Toyota, Belkin, and more. The goal of the Real World Learning program is to bridge the gap between the classroom and the workplace.