You're Invited…
Don't miss TEDx@Da Vinci Schools featuring 26 Ted Talks by our very own Da Vinci Communications and Da Vinci Design 9th grade students!!
Thursday, December 19, 2013 (tomorrow) @ Del Aire Park Gym – next door to DVC/DVD
Session 1:  9:30-10:40 am
Session 2: 11:00 am-12:30 pm
Session 3: 1:20-2:20 pm
(Please note:  Audience members may only enter at the start of each session and cannot leave until the end of the session.)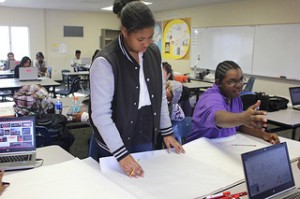 A sampling of student topics:
What is Love?
The Power of Hello
The Gift of a Healthy Body
The Beginning of Greatness
Stop Negative Judgment
Listening to People's Melodies
Cartoons Create Imagination
Thinking With Your Fat
Music and Conceptualization
… and many more!
Our students are hard at work preparing for tomorrow.  Please join us!